This site is best viewed with a browser that uses cascading style sheets, cookies and javascript.

Fulton Allen - Blind Boy Fuller

b. July 10, 1907 - d. February 2, 1941
Blind Boy Fuller is one of the most recognized Piedmont Blues artists. He recorded a large number of albums and many other notable blues musicians were his accompanyists and associates. His influence is evident around the world in both covers of his songs and his guitar playing style.
Grave Location:
Grove Hill Cemetery, Durham, North Carolina USA
Leave a Note at Blind Boy Fuller's Virtual FRP
View the Notes at the Blind Boy Fuller FRP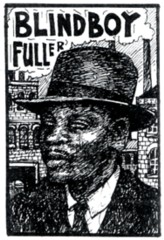 The location of the FRP of Blind Boy Fuller is on private property in Durham, North Carolina. State records indicate that this was once an official cemetery, and Fuller's interment is recorded. The only remaining headstone is not that of Blind Boy Fuller. On July 16, 2001, the City of Durham recognized the career and significance of Blind Boy Fuller.